FORGET THE FORMALITIES
Craft Your Own Experience
When you walk into our full-service jewelry store in Portland's Pearl District, we want you to feel like family.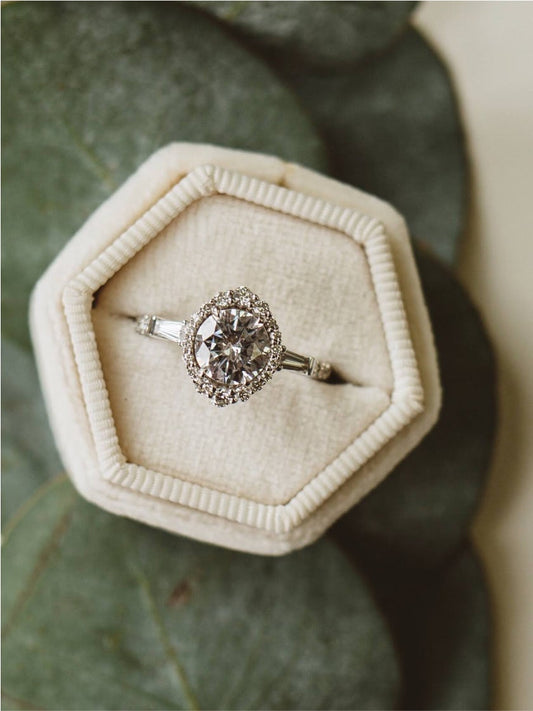 Let us help you find the perfect ring.
We take the time to listen and work with you to create something uniquely yours. Our staff takes immense pride in helping you get the ultimate ring that your fiancé will love. We have methods to help you figure out the best design if you want to surprise your partner or we can work hand-in-hand with both of you to create a one-of-a kind piece.
Shop Collections
Design Your Own
Three generations of diamond experts
The Malka family has been working with diamonds around the world for over half a century. We started Malka Diamonds in our downtown Portland location in 2010 with the goal of continuing our family's legacy in the diamond business. We couldn't be more proud to live up to our family's rich tradition of craftsmanship and excellent customer service.
Schedule a Consultation
Permanent Bracelet
Malka Diamonds is thrilled to offer permanent, laser-welded jewelry, custom sized to fit you. Whether you visit us on your own or bring your besties, our team will gladly laser weld your choice of 14kt gold chain to your wrist or ankle to create the ultimate clasp-less piece.
Permanent jewelry is the perfect gift for you or a loved one! It's the ultimate in friendship bracelets. Bring a friend or family member and mark your special relationship with a permanent bracelet. This little bit of sparkle will last forever but of course can be removed if needed with a pair of sharp scissors.
Book Now
Restoration & Repair
The Malka Diamonds team includes a GIA Certified Gemologist, a former GIA grader, and other expert jewelry restoration specialists. We love challenges and will do everything we can to make sure your jewelry looks fabulous. We can:
Tighten and set stones
Replace lost stones
Build up prongs and shanks
Ring-sizing
Re-engrave
Milgrain addition
Rhodium plate
At Malka Diamonds our in-house laser welding machine allows our expert craftsmen to seamlessly repair and resize rings. It's an amazing piece of technology and produces incredible results.
Book Now
Custom Design
The custom jewelry process is a unique and exciting one. Lucky for you, Malka Diamonds houses a state-of-the-art jewelry workshop. We have two exceptional craftsman jewelers working hard full time to assure that the custom pieces are made in an impeccable way.
Malka Diamonds in Portland, Oregon is home to a state-of-the-art, custom jewelry workshop. As third-generation diamond experts, we're dedicated to the design and construction of custom engagement rings, wedding bands and beautiful jewelry pieces. Think of our team of exceptional craftsman jewelers as your personal designers. We'll help you create a custom piece that is elegant, stylish, and truly unique.
Book Now
Jewelry Appraisal Services
Need your fine jewelry appraised? Valuable jewelry should have its own documentation. At Malka Diamonds we have the privilege and distinction of offering a complete state of the art gemological laboratory. Our appraiser is a Graduate Gemologist from Gemological Institute of America. We use cutting edge valuation software that removes the guesswork and assigns accurate values to your jewelry items. Our fine jewelry appraisal services in Portland, Oregon include insurance appraisals, retail replacement, estate valuation, estate buying, loose stone identification, stone valuation and grading, stone plotting, liquidation, and digital photography. Rest assured that our jewelry appraisal services are accurate and fair for peace of mind on your fine jewelry values.
Book Now
Re-Stringing Pearls
With time and normal wear, the thread of pearl necklaces and pearl bracelets become brittle and susceptible to breakage. Generally, re-stringing should be done every 2-3 years. If the cord has "blackened" near the pears or the individual pearls can slide, side to side, it's time for re-stringing! Need a set of pearls restrung? Let the professionals at Gennaro Jewelers prolong the life of your pearls by restringing and inspecting the clasps. We can also replace missing pearls with matching ones and in many cases, we can replace missing beads. We can also replace the clasp or closure and create a single strand or multi-strand necklaces or bracelets.
Book Now
Cleaning, Polishing, and Inspection Services
When jewelry is worn every day, it is exposed to accidental glancing hits and bumps that can cause damage, the damage that you might not notice at the time. Jewelry should be inspected at least once a year. The below is what we do at Malka Diamonds to inspect your valuable jewelry:
So, what does a jewelry inspection usually involve?

CLEANING
First, your jewelry will be professionally cleaned by our experienced staff. There is no charge at Malka Diamonds to "clean" your jewelry in our modern ultrasonic cleaner.

SAFETY CHECK
There is no charge to do a jewelry inspection at Malka Diamonds. Checking the safety of your items is the main reason you should have your jewelry inspected. Our staff of professionals will use high powered magnification to check your setting for problems such as worn, bent or broken prongs. Your stones will be examined to see if they are loose, and if they are, they will be tightened by our master diamond setter. Any tightening or setting work will be done. If prongs or areas of the precious metal are worn, we can rebuild or replace the worn areas and restore them to their original condition.

POLISHING
Polishing jewelry is NOT the same as cleaning jewelry. Cleaning just removes dirt and soil; it does NOT polish the surface.
Polishing is a complete hand process of using a series of a few buff wheels, This process will remove the majority of surface scuffs and scratches. The precious metal then receives a final high luster polish so that it looks like new.
I fell in love with the ring immediately and still find myself glancing at it several times a day. We can't thank Malka Diamonds enough for all of their help in making this possible for us, you guys truly are the best!"
-Heather & Chantel
We couldn't be more happy with the ring and she tells me every day how much she loves it. Thank you so much for making our proposal day so special!" 
-Joe & Ali
Once the ring shopping started, he tried multiple store and found Malka Diamonds. Their friendly service and great reviews sold him! They helped Brock find the perfect ring! After the engagement, they also helped BJ to find a band to compliment her engagement ring."
-Brock & BJ
Malka Diamonds & Jewelry
Appointments Available
308 NW 11th Ave #200
Portland, Oregon 97209

Tuesday - Saturday: 10AM - 4PM
Call 503-222-5205 to schedule
Contact Us