These unique rings are impossible not to love.
A simple solitaire isn't what your fashion-loving, unconventional fiancé-to-be is dreaming of. Your partner's style has always been tasteful, but never been ordinary — the ring you propose with should follow suit.
Shop Now
Design Your Own
At Malka Diamonds, you'll find a stunning collection of unconventional engagement rings that are designed to wow. Our alternative bridal engagement ring collection is a fan favorite. These unique rings are impossible not to love. Using recycled gold and ethically-sourced stones we proudly make unique piece that last. We offer salt-and-pepper diamonds, geometric diamond rings, vintage-inspired designs, and unique statement pieces.
Featured Alternative Engagement Ring Collections
Salt and pepper diamonds have become hugely popular as an alternative engagement ring style.
Shop now
We are one of the few jewelry shops in Portland that houses a state-of-the-art, custom jewelry workshop. As a third-generation diamond experts, we love designing and constructing custom alternative engagement rings
Shop now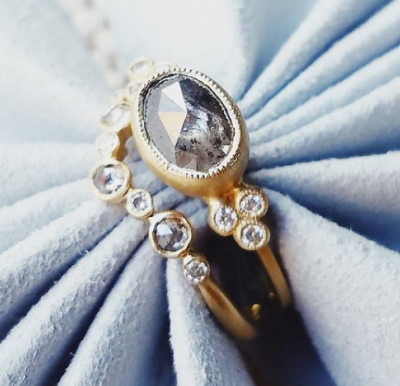 We're proud to carry a collection of Jennifer Dawes rings here in our Portland store. The hallmark of this visionary jewelry brand is its commitment to artisanal elegance. These non-traditional ring designs are gorgeous!
Shop now
Why Shop at Malka?
See for yourself! Learn more about our Downtown Portland location.
ethically Sourced
BEST SELECTION IN THE NORTHWEST
ON-STAFF GEMOLOGISTS
NO SALES TAX IN OREGON!
Learn More
Malka Diamonds & Jewelry
Appointments Available
308 NW 11th Ave #200
Portland, Oregon 97209

Tuesday - Saturday: 10AM - 4PM
Call 503-222-5205 to schedule
Contact us
The Malka Diamonds Advantage
UNPARALLELED EXPERIENCE & GENUINE SERVICE
There's a reason we've been named one of the coolest jewelry stores in the US.
When you walk into our non-traditional jewelry store in the Pearl District of Portland, Oregon, we want you to feel like part of our family. Enjoy our relaxed and friendly approach. Sip on a beverage and chat with our team as you view our top-of-the-line and highly curated collections.
We'll take the time to learn about you and what you're looking for, giving you all the time you need to browse through and pick the perfect piece.
At Malka Diamonds, you'll find:
Third-generation diamond experts
Master craftsman jewelers who specialize in creating custom non-traditional rings
On-staff GIA certified gemologists
Jewelry that always include appraisals, complimentary resizing, and lifetime care
I fell in love with the ring immediately and still find myself glancing at it several times a day. We can't thank Malka Diamonds enough for all of their help in making this possible for us, you guys truly are the best!"
-Heather & Chantel
We couldn't be more happy with the ring and she tells me every day how much she loves it. Thank you so much for making our proposal day so special!" 
-Joe & Ali
Once the ring shopping started, he tried multiple store and found Malka Diamonds. Their friendly service and great reviews sold him! They helped Brock find the perfect ring! After the engagement, they also helped BJ to find a band to compliment her engagement ring."
-Brock & BJ