Gray Diamond Collection
Malka Diamonds is home to an expertly-curated collection of gray diamond rings in Portland, OR. Our luxury selection includes natural gray diamonds and salt and pepper diamonds.

We'll help you explore all your options — from engagement rings and special occasion pieces to everyday jewelry and stackable rings, we custom make gray diamond ring to perfectly fit your vision and needs!
Why Shop at Malka?
See for yourself! Learn more about our Downtown Portland location.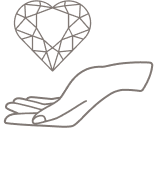 ethically sourced

BEST SELECTION IN THE NORTHWEST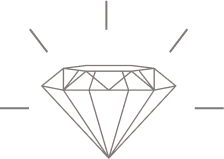 ON-STAFF GEMOLOGISTS
NO SALES TAX IN OREGON!
Learn More
Why Gray Diamonds?
RARE VALUE. UNIQUE STATEMENT. SIMPLE AND MINIMALISTIC STYLE.
Gray diamonds are a rare diamond color — even more so than yellow or blue diamonds. Because this color of diamond has only recently become popular, many people have never seen a gray diamond in person before. Pictures just don't do them justice!

The luxurious and sophisticated silvery metallic look of these diamonds showcase minimalism and simplicity without compromising on looks and style. It's also highly versatile and looks beautiful with any outfit and skin tone.

This diamond doesn't conform to the status quo and is a beautiful statement for the modern-day Portlander.
Malka Diamonds & Jewelry
Appointments Available
308 NW 11th Ave #200
Portland, Oregon 97209

Tuesday - Saturday: 10AM - 4PM
Call 503-222-5205 to schedule
Contact Us
The Malka Diamonds Advantage
UNPARALLELED EXPERIENCE & GENUINE SERVICE
We take care to offer a luxury collection of gray diamonds specially curated to catch the eye of our valued and discerning customers. We're selective about the pieces we add to our collection and look for only the highest quality and most timeless pieces.
When you walk into our jewelry store in the Pearl District of Portland, we want you to feel like part of our family. We'll take the time to learn about you and what you're looking for, giving you all the time you need to browse through and pick the perfect gray diamond ring!
At Malka Diamonds, you'll find:
Third-generation diamond experts
Master craftsman jewelers who specialize in creating custom gray diamond rings
On-staff GIA graduate gemologists
Gray diamond rings that always include appraisals, complimentary resizing, and lifetime care
I fell in love with the ring immediately and still find myself glancing at it several times a day. We can't thank Malka Diamonds enough for all of their help in making this possible for us, you guys truly are the best!"
-Heather & Chantel
We couldn't be more happy with the ring and she tells me every day how much she loves it. Thank you so much for making our proposal day so special!" 
-Joe & Ali
Once the ring shopping started, he tried multiple store and found Malka Diamonds. Their friendly service and great reviews sold him! They helped Brock find the perfect ring! After the engagement, they also helped BJ to find a band to compliment her engagement ring."
-Brock & BJ
Frequently Asked Questions
I've never purchased a gray diamond before. I'm not sure what to look for. Can you help?
-
Absolutely! That's what we're here for. Many of our customers are buying a ring for the first time, and most people have never purchased a gray diamond! You don't have to be a diamond expert to find the perfect ring. We'll teach you everything you need to know.
Can you create a custom gray diamond engagement ring?
+
What is a GIA graduate gemologist?
+
Do I need to know my partner's ring size?
+
Do your rings include cleaning and maintenance?
+