Permanent Jewelry
Malka Diamonds is thrilled to offer permanent, laser-welded jewelry, custom sized to fit you. Whether you visit us on your own or bring your besties, our team will gladly laser weld your choice of 14kt gold chain to your wrist or ankle to create the ultimate clasp-less piece. 
Permanent jewelry is the perfect gift for you or a loved one! It's the ultimate in friendship bracelets. Bring a friend or family member and mark your special relationship with a permanent bracelet. This little bit of sparkle will last forever but of course can be removed if needed with a pair of sharp scissors.
The Perfect Gift for You and Your Loved One
Pricing will depend on the bracelet's weight & length. Most wrists are 6"- 8" & pricing is by inch with an additional $20 welding fee.
1. Light weight $25"/inch
2. Medium weight $30"/inch
3. Heavy weight $35"/inch
Move aside, piercings and tattoos: Permanent jewelry is happening.
- Vogue Magazine
Frequently Asked Questions
How long will the appointment take?
-
Each appointment is 15-20 minutes long.
How do I care for my chain?
+
Will the chain tarnish?
+
Can I swim with this on?
+
Can I travel through TSA security check points with a permanent bracelet or anklet on?
+
What can I do if I need to take it off?
+
What should I do if it breaks?
+
What is the return policy for a permanent piece?
+
Why Shop at Malka?
See for yourself! Learn more about our Downtown Portland location.
ETHICALLY SOURCED
BEST SELECTION IN THE NORTHWEST
ON-STAFF GEMOLOGISTS
NO SALES TAX IN OREGON!
Learn More
Malka Diamonds & Jewelry
Appointments Available
308 NW 11th Ave #200
Portland, Oregon 97209

Tuesday - Saturday: 10AM - 4PM
Call 503-222-5205 to schedule
Contact Us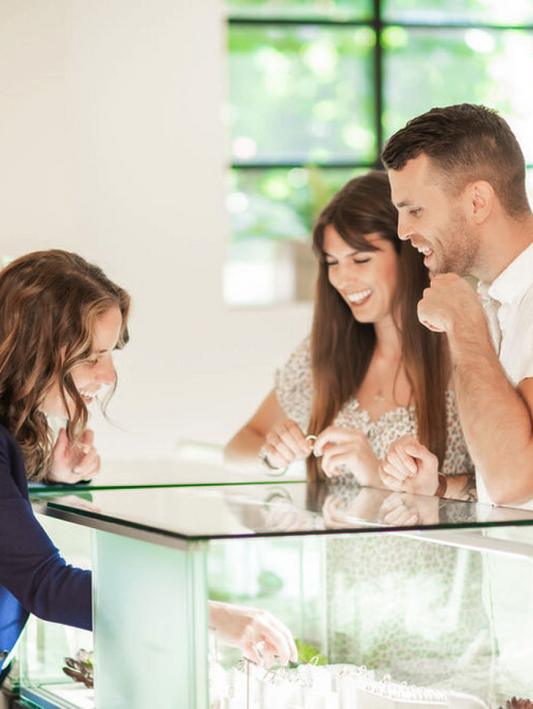 The Malka Diamonds Difference
UNPARALLELED EXPERIENCE & GENUINE SERVICE
Anyone who walks into our store will feel like family. We want to get to know you and your partner and help you find the perfect ring you've always dreamed about - or design it from scratch!

Even if you've never shopped for jewelry before, you'll leave feeling like an expert. We'll teach you about the 4 C's of diamonds, what to look for in an engagement ring, the perfect stone shape for your partner's finger, and much more.
At Malka Diamonds, you'll find:
Third-generation diamond experts and native Oregonians
GIA certified gemologists & a master jeweler with nearly 40 years of experience
Award-winning ring designs, an amazing selection of vintage engagement rings and designer collections that will take your breath away
Engagement rings that include an appraisal, complimentary resizing, and lifetime maintenance