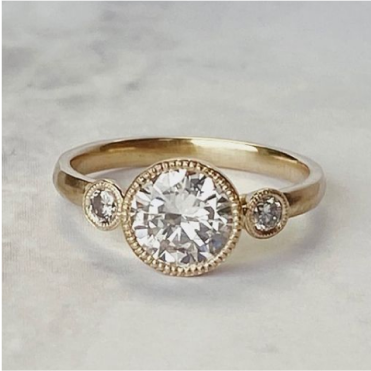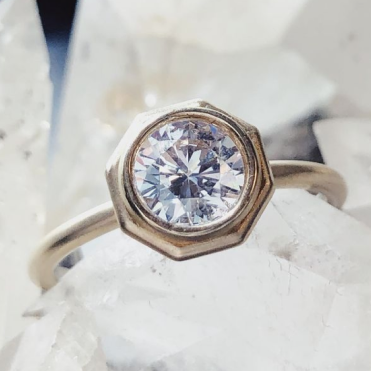 Engagement Rings
An engagement ring symbolizes the love and commitment you share with your partner. At Malka Diamonds, we'll help you find a ring that you'll treasure for life. Come visit us on 308 NW 11th Ave downtown Portland. We'd love to meet you! The custom jewelry process is a unique and exciting one. Lucky for you, Malka Diamonds houses a state-of-the-art jewelers workshop. We have two exceptional craftsman jewelers working hard full time to assure that the custom pieces are made in an impeccable way.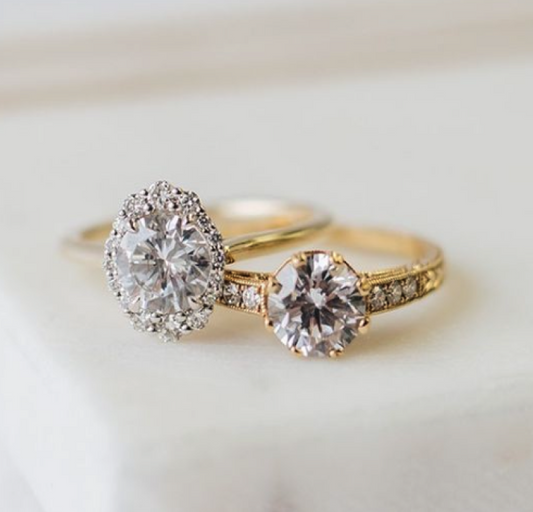 Our certified gemologists and master jewelry craftsman specialize in creating handcrafted custom engagement rings. Let us design something amazing for you!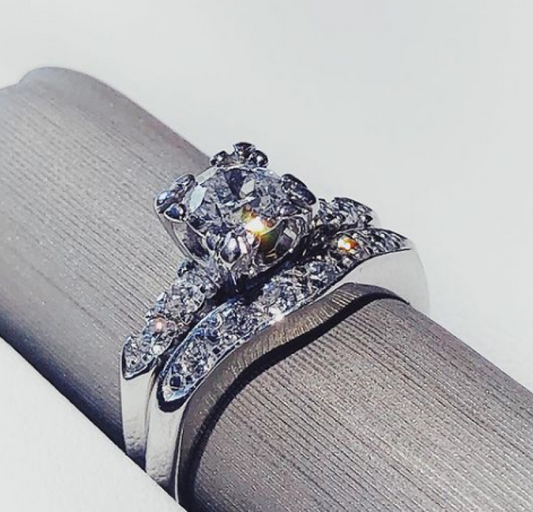 You'll love our selection of modern rings from the collections of Vatche, Zeghani, Jolie, and other top designers. From minimalist settings to ornate designs, you're sure to see something you adore.
We're home to one of Portland's largest collections of vintage engagement rings. Our hand-curated selection features rings chosen for their timeless style, beauty, and elegance.
Why Shop at Malka?
See for yourself! Learn more about our Downtown Portland location.
ETHICALLY SOURCED
BEST SELECTION IN THE NORTHWEST
ON-STAFF GEMOLOGISTS
NO SALES TAX IN OREGON!
Learn More
Malka Diamonds & Jewelry
Appointments Available
308 NW 11th Ave #200
Portland, Oregon 97209
Tuesday - Saturday: 10AM-4PM
Call 503-222-5205 to schedule
Contact Us
Find the Perfect Ring at Malka Diamonds
Selecting an engagement ring isn't a decision to be made lightly. It's an important step towards making a lifelong commitment to love, partnership, and family.

Maybe your future fiance has dreamed of a specific design for years? Perhaps you have an idea of what she might love? Or you might not even know where to start!
If you've never shopped for a diamond ring before, don't worry. Our experienced and GIA certified gemologists are here to help you find (or design) the perfect engagement ring. We're passionate about diamonds and love sharing the knowledge we've acquired over the years. We'll also take the time to listen to you and answer all of your questions. We take great pride in helping you find the ring that your fiance will love.

Planning a surprise proposal? We can help you choose the perfect design and style of ring. We also love working with couples who want to pick out an engagement ring together.
I fell in love with the ring immediately and still find myself glancing at it several times a day. We can't thank Malka Diamonds enough for all of their help in making this possible for us, you guys truly are the best!"
-Heather & Chantel
We couldn't be more happy with the ring and she tells me every day how much she loves it. Thank you so much for making our proposal day so special!" 
-Joe & Ali
Once the ring shopping started, he tried multiple store and found Malka Diamonds. Their friendly service and great reviews sold him! They helped Brock find the perfect ring! After the engagement, they also helped BJ to find a band to compliment her engagement ring."
-Brock & BJ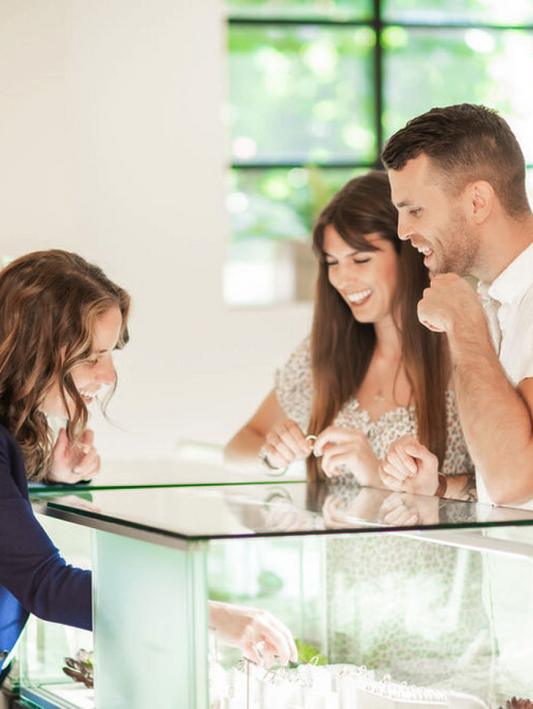 The Malka Diamonds Difference
Anyone who walks into our store will feel like family. We want to get to know you and your partner and help you find the perfect ring you've always dreamed about-- or design it from scratch!

Even if you've never shopped for jewelry before, you'll leave feeling like an expert. We'll teach you about the 4 C's of diamonds, what to look for in an engagement ring, the perfect stone shape for your partner's finger, and much more.
At Malka Diamonds, you'll find:
Third-generation diamond experts and native Oregonians
GIA certified gemologists & a master jeweler with nearly 40 years of experience
Award-winning ring designs, an amazing selection of vintage engagement rings and designer collections that will take your breath away
Engagement rings that include an appraisal, complimentary resizing, and lifetime maintenance
Malka Diamonds & Jewelry
Appointments Available
308 NW 11th Ave #200
Portland, Oregon 97209

Tuesday - Saturday: 10AM - 4PM
Call 503-222-5205 to schedule
Contact Us
Engagement Stories
Joe + Ali
Bita + Austin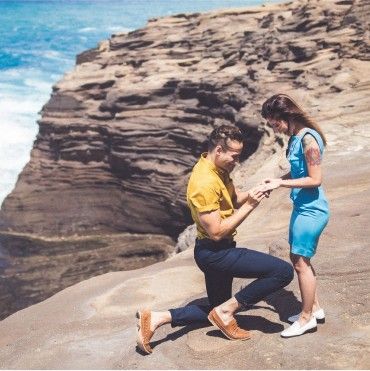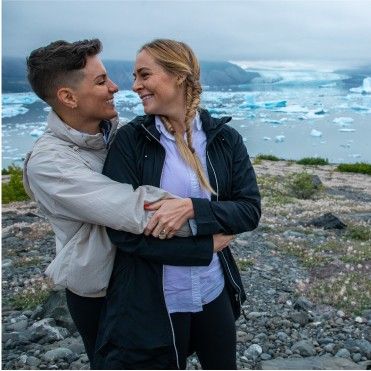 Taylor + Lauren
Erin + Jordan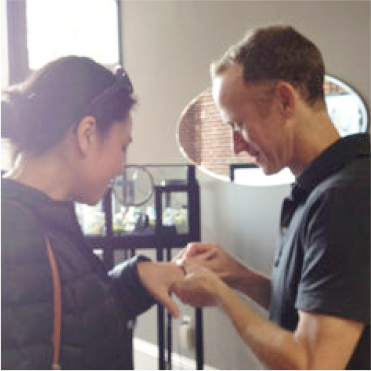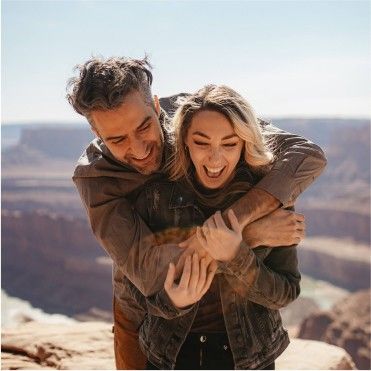 Frequently Asked Questions
I've never bought a diamond before. I don't even know where to start. Can you help?
-
Absolutely! We frequently work with customers who are purchasing a diamond for the first time. Our goal is to answer all your questions about designer engagement rings and help you feel confident in your choice. The staff here at Malka diamonds never wants you to feel worried or stressed about picking a diamond. We'll teach you everything you need to know!
What is a GIA certified gemologist?
+
Do I Need To Know My Partner's Ring Size?
+
Do your rings include cleaning and maintenance?
+
When I buy an engagement ring do you recommend an appraisal?
+
Are your diamonds conflict free?
+
Unlike jewelry stores in the Seattle area, we do not charge any sales tax at Malka Diamonds. That's because there's no sales tax in Oregon.
+