The COVID-19 pandemic has affected nearly every aspect of our lives. From work and school to travel and leisure, a lot has changed in the last year and a half. While adjusting to this new "normal" hasn't always been easy, one silver lining is that it has brought many couples closer together.
According to a
recent survey
by The Knot, a majority of committed couples feel that their relationships have strengthened during COVID-19, and engagement ring sales are up
20 percent
over pre-pandemic numbers.
Here at Malka Diamonds, our team has been delighted to work with so many amazing couples throughout the pandemic. Even though proposals and ring shopping may
look a little different
these days, you can still make your dream engagement a reality.
---
At Malka Diamonds, ensuring the health and wellbeing of our customers and team members is a top priority. We've taken steps to make shopping for the perfect ring as safe and convenient as possible.
Learn more
Stick to small, local jewelers
Sure, there are some benefits to shopping at large chain stores and online-only retailers when you're shopping for everyday items. If you're looking for a good deal on a pair of jeans or a new set of silverware, exquisite quality, a curated inventory, and personalized assistance from industry experts may not be your top priorities.
But when it comes to buying something as important as an engagement ring, small, independent jewelers are your best bet — especially during the pandemic.
By nature, boutique jewelers like Malka Diamonds are far better suited to the personalized, intimate shopping experience COVID necessitates. Plus, now more than ever, supporting small local businesses can make a big difference in your community.
Whether you're shopping in-store, online, or via 1-1 video chat, working with a local jewelery company will give you the highest quality, best value, and first-class service.
---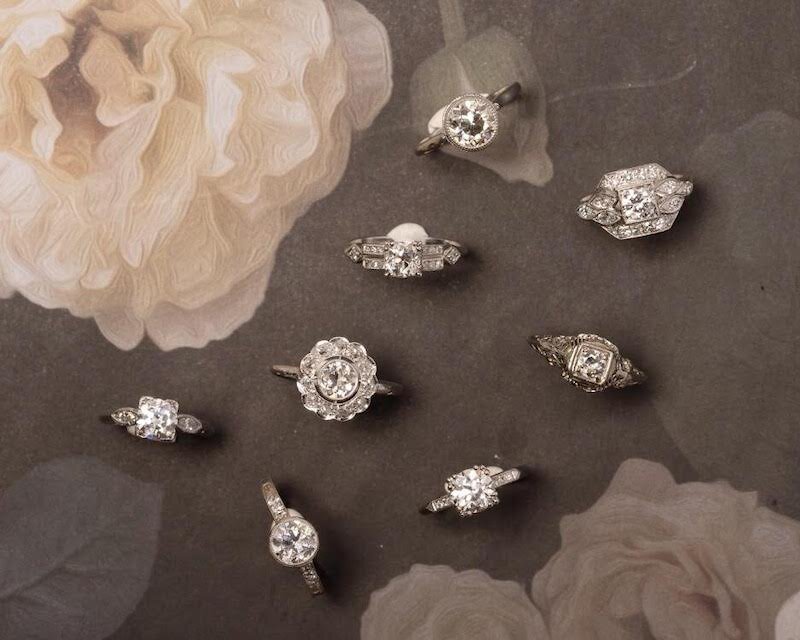 Shop online
Opting for local boutique jewelers still means you can enjoy the convenience (and safety) of shopping online from the comfort of your own home. The pandemic has prompted a lot of independent jewelers to take advantage of the technology available to us and set up online shops and showrooms.
Even if you don't want to actually make your purchase online, browsing a store's online shop ahead of your appointment can be a great way to get a sense of their collections and figure out what styles and cuts you like. Check out Malka's online pop-up shop here
Opt for a virtual appointment
Another COVID-safe option for finding that perfect ring is to schedule a virtual appointment, where you'll meet with your jeweler via phone or video chat. This allows you to discuss your options and benefit from their personalized, 1-1 attention and expertise without having to leave your home.
At Malka Diamonds, we perform virtual consultations by phone, Zoom, FaceTime, Google Hangout, or another video-chat method of your choice. You'll get the same thoughtful attention, high-quality service, and customized experience we offer in-store from the comfort of your own home. To make the most of your consultation, we'll ask you some questions ahead of time to get a sense of your tastes, budget, and preferences. Contact us today to schedule your virtual appointment.
Schedule in-person appointments in advance
Not everyone is comfortable purchasing an engagement ring online or via video chat, and that's perfectly okay. Most jewelers are still offering in-store shopping — it just looks a little different these days.
Scheduling your in-person appointment in advance not only keeps everyone safe, but allows for a more intimate and personalized shopping experience. In fact, many people find that they actually prefer appointment shopping to traditional walk-in ring shopping.
At Malka Diamonds, we offer private appointments at our new location in Portland's Pearl District. We've taken extra precautions to ensure our store meets the highest standards of safety, cleanliness, and sanitation protocols.
Get in touch to schedule your private appointment today.
Shop exquisite engagement rings in Portland with Malka Diamonds
Don't let the pandemic ruin your engagement. We won't!
Whether we're helping our customers in-person, online, or via video call, we're committed to helping you find or create the perfect ring to celebrate your engagement and symbolize your love and commitment to one another.
We offer the highest-quality collection of designer, vintage, stackable, classic, and alternative bridal rings — as well as custom rings. Every member of our team is handpicked for their knowledge, dedication, and expertise.
Choose from our range of health-conscious shopping options and experience what Malka Diamonds is all about. Give us a call at (503) 222-5205 or contact us online today. We can't wait to hear your story and answer any questions you have!