Is one ring ever enough? No way. Wear a variety of rings at once with stackable rings.
Quick refresher — what are stacking rings? A style of layering various rings on one or many fingers. Many people enjoy adding stackable anniversary rings to their engagement ring or wedding band, but this is a popular style whether or not you're married.
Keep reading to learn about the ring stacking styles currently making a sparkling statement here in Portland. Get inspired, ask us questions, and then get to stacking!
---
Want to browse stacking rings in person?
---
V-shaped stacking bands
Sometimes called a "chevron ring," we love everything about this stackable ring style. This geometric ring can be paired with other v-shaped stacking rings, or fit perfectly next to your engagement or wedding ring. A v-shaped stacking band looks great as a midi-ring style as well!
Curved or contoured stacking rings
Curved stacking rings are a beautiful option for those who want to pair a new ring with an existing band or engagement ring. This style of ring is similar to a v-shaped ring, but has a less rigid and more free-flowing shape.
Here at Malka Diamonds, we have an entire collection of curved stacking rings to perfectly fit with your long-time rings. We can also custom-make a curved stacking ring to fit your vision.
Stacking diamonds all the way around
There's nothing quite like a thin, delicate band that's encrusted with small diamonds. But don't be afraid to mix and match different gemstones in your stacking ring, too.
This stacking ring style is elegant, modern, and timeless all at the same time. We often recommend this look to compliment a solitaire engagement ring.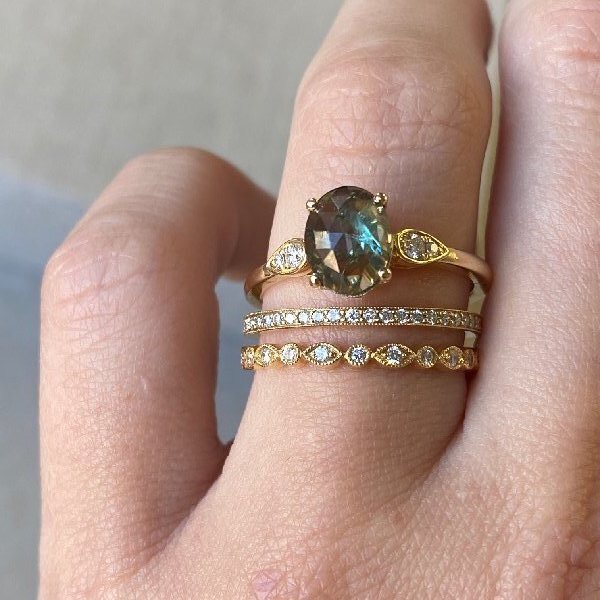 Salt & pepper ring stacks
If you're like us and can't get enough of this silky, galactic style of ring, we recommend stacking multiple salt and pepper rings together. Sprinkled with mesmerizing clusters of inclusions, a stack of salt and pepper diamonds is truly enchanting.
This alternative style of diamond calls for an alternative stack. We especially love a salt-and-pepper ring collection that combines v-shaped, curved, and contoured bands.
Stacking mixed metals & details
Can't decide between gold, rose gold, or silver? A mixed metal ring stack might be just what you need. We also love experimenting with different shaped bands to add an elevated dimension and texture to your stack. For example, mixing a curved band with a geometric, twisted, or classic band.
---
Choosing the right stacking ring collection
A stackable ring collection is one of those things that looks effortless, but behind the scenes takes careful consideration. In addition to finding a cohesive combination of rings, you also want to make sure the blend speaks to your personality — whether that's feminine, edgy, minimalist, modern, or playful. Here are a few tips for getting started.
1. Decide which fingers to stack
Don't be afraid to spread rings around multiple fingers, but it's okay if you want to limit your ring stack to one finger, too.
2. Leave at least one finger empty
Can't stop stacking? That's okay. Just make sure to leave at least one finger empty. We like keeping your pinky or thumb empty, but leaving a more central finger bare can also provide a quirky, off-centered, and chic look. And yes, you can stack on both hands!
3. Mix and match (carefully)
Like we mentioned earlier, rings don't need to be the same metal, have the same gemstones, or be the same size to be stacked together. However, mixing and matching can be tricky. Talk with one of our jewelers to help choose the perfect blend of rings that feels unique and true-to-you, while still being cohesive.
Common questions about stacking rings
How do you size a ring when stacking?
The general rule is that if you plan on stacking at least 3 rings together, or if your rings are wider than 2mm (about the thickness of a quarter), then you'll need half a size larger than your normal ring size. Our team will take your finger measurements to ensure the perfect fit.

What finger do you wear stackable rings?
The most common fingers to wear stacking rings are your index, middle, and ring fingers. However, you can stack rings all on one finger, alternate fingers, or every finger.

Is it okay to wear stacking rings on your thumb?
Yes. Though it's less common, stacking thumb rings can be both comfortable and stylish. (Did you know that thumb rings are traditionally considered a symbol of wealth? And ancient Greeks believed that thumbs represented power and masculinity.)

Ready to build the perfect stacking ring set?
Malka Diamonds is the best place in Portland to go for stacking rings:
Third-generation diamond experts
Master craftsman jewelers who specialize in creating custom stacking ring sets
On-staff GIA certified gemologists
Rings that include appraisals, complimentary resizing, and lifetime care
We'd love to welcome you to our store in the Pearl District and help you try on or design your perfect stackable ring collection. Contact us to set up a private appointment.
Prefer to shop from the comfort of your home? Shop our online shop to see a limited selection of our favorite stacking rings.