Dreaming of your perfect engagement ring? Don't let society's notion of what an engagement ring should look like guide your decision. The ring you chose should make you happy and fit your personal style. You'll be the one wearing and looking at it every day!
These 7 alternative ring styles are impossible not to love. Take a look and discover the non-traditional style that fits your taste best.
---
Vintage (or vintage-inspired) ring
Vintage rings are the best way to hold onto your favorite features of a traditional ring without compromising on that unique wow factor. An impeccably-preserved vintage ring can be restored to brand new condition or crafted into an even more impressive piece.
For those who prefer a non-traditional look, we recommend a custom-made vintage ring. These rings (like the one pictured above) not only offer timeless beauty and history, but one-of-a-kind style.

Salt-and-pepper diamonds
Have you seen these silky gray and white speckled rings yet? Salt and pepper rings have been shaking things up here in Portland. Truth be told, they are one of our favorite non-traditional ring styles.
A salt and pepper diamond is characterized as one with a mix of black and white inclusions that add a unique look to the diamond's overall appearance. No two salt-and-pepper diamonds are the same.

Stacking rings
A stacking engagement ring is great for those who love sparkly things but have a more minimalistic style. This type of engagement ring includes more than one ring (usually 3-4) that are strategically chosen to stack together in a unique and cohesive way.
Stacking rings come in a variety of styles, often featuring delicate bands and solitaire diamonds or gemstones. However, you may also really enjoy a more elaborate stacking engagement ring look, with a variety of textures, stones, materials, and shapes.

Cluster rings
Cluster rings really break the mold! This alternative ring style groups several sizes and shapes of stones together in an artful cluster. They're also commonly paired in a stacking ring style.
You typically see cluster rings that have a large center stone and a group of smaller stones surrounding it. They can also feature different color gemstones.
This type of ring has a strong and sparkly personality. It's a great style for those who want their ring to have a classic wow factor, but aren't interested in a traditional single solitaire style.

Geometric rings
A geometric-style engagement ring offers a bold yet natural-looking shape that fits so nicely with a modern-day style. This type of ring features hexagonal diamonds, kite-cut stones, and angular settings.
We especially love geometric rose-cut diamonds and geometric salt and pepper rings. You have to see this stunning yet alternative look in person.

Colorful gemstone ring
Do you prefer a bit more color in your jewelry? You can have it! Colorful gemstones, while often trendy, are still less widely seen and a great engagement ring style for those who want something less traditional.
Here at Malka, our team is especially partial to sapphires and yellow diamonds!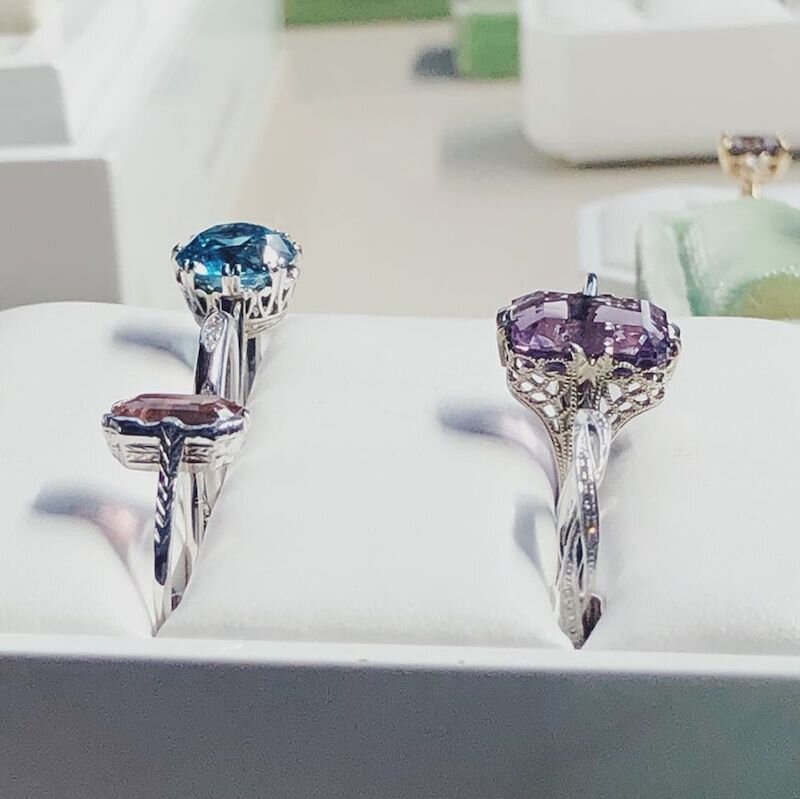 Bezel setting rings
A bezel setting is really unique and gorgeous — and a popular choice among those looking for something a little more non-traditional.
A bezel setting surrounds your gem with a thin band of precious metal, creating a smooth and secure edge all the way around. With your gemstone completely wrapped, it can often create the illusion of your stone being larger than it is.

---
How to choose the right alternative ring
An engagement ring — no matter what style — is an important choice. We've created a whole guide with tips on how to choose an engagement ring, but the most important step of the process is choosing the right store.
Make sure any place you shop for a ring meets the following requirements:
Alternative engagement rings at Malka Diamonds

At Malka Diamonds, we're constantly scouring the market for the most stand-out styles, including alternative engagement rings.
Our Portland jewelry store curates a high-quality collection to provide something for everyone. We even offer custom-designed rings for those looking for something truly one of a kind.
Stop by our downtown store at any time (no appointment needed) to see our selection. We're named of the coolest jewelry stores in the US and would love to show you why.