You spend a lot of time and energy picking out an engagement ring. But when the time comes for the groom to choose his wedding band, it's all too common to rush through the process without much thought.
Even if the groom doesn't have a particular look or style in mind, or just wants something simple, the band still needs to be well-fitted, comfortable, and something they like wearing.
At Malka Diamonds, choosing the right men's wedding band is easy. Our team has years of experience and we want to help! Keep reading to learn some important considerations to make when picking out a wedding band. Then give us a call and we'll walk you through the process and make sure it's an easy and enjoyable experience.
Choose a wedding band material
The most important part of picking a wedding band is choosing a material. And at first glance, this can seem like a daunting task — there are a lot of options!
You can go a traditional route with a material like:
Platinum

White gold

Yellow gold

Rose gold

Titanium
Or try something more modern with a non-traditional option such as:
Tungsten

Zirconium

Carbon fiber

Silicone
Let's take a closer look at the pros and cons of each of these wedding band materials.
| Material | Pros | Cons |
| --- | --- | --- |
| Platinum | Won't trigger allergies, never loses its shine, rare | Expensive, heavier than traditional materials |
| Gold | A lightweight option compared to platinum or tungsten, always fashionable, easy to resize | Can trigger allergies if made with nickel, can become discolored if comes into contact with certain chemicals, scratches easily |
| Titanium | Difficult to scratch, lightweight, more flexible than Tungsten, usually budget friendly | Not resizable |
| Zirconium | Very lightweight, hypoallergenic, won't discolor around other chemicals | May scratch |
| Carbon fiber | Very lightweight, durable, hard to scratch, modern and high-tech look, budget friendly | Not resizable, limited color options |
| Silicone | Won't catch on machinery or tools, not conductive, comfortable, lightweight, budget friendly | Easier to break than a metal ring |
| Wood | Eco-friendly, hypoallergenic, and endless colors and texture options | More easily damaged by chemicals, resizing is difficult |
So how do you choose a material?
The best way to know for sure what type of material you like is to see and feel the materials in person, taking some time to try on different options. If one type of ring doesn't immediately catch your attention, you can start to narrow your options by considering your lifestyle:
Are you someone who likes to work on projects with your hands?

Do your hands get very dirty on a regular basis?

Do you have a lot of outdoor hobbies and activities that could damage the ring?

Does your job pose a risk of scratching your ring (exposing it to chemicals, catching it on something, or being exposed to electricity?)

How much time do you want to spend cleaning and maintaining your ring?

What's your day-to-day style? Jeans and tee? Sportswear? Suits and ties?
By answering these questions above, you'll figure out whether your ring needs to meet certain criteria or not. For example, does it need to be easy to clean, highly durable, casual to fit an active lifestyle?
Our team always takes the time to get to know our clients and understand their lifestyle before recommending a ring material.
---
Decide on a width & fit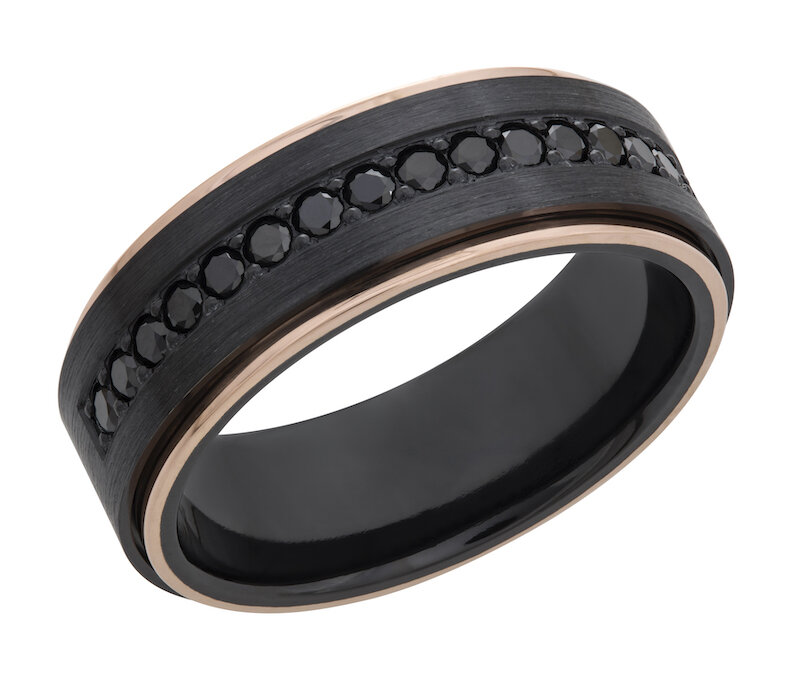 Just like engagement rings, wedding bands come in all different widths. When choosing a width for your wedding band, the most common options are:
4mm (narrow) - light, comfortable, usually best for smaller hands or people who aren't used to wearing jewelry

6mm (medium) - the average width for a wedding band, this size tends to look good on all hands

8mm (wide) - these rings are bold and make a statement, usually best on larger hands or long fingers
You'll also need to decide what kind of fit you want on your ring. Generally, there are two types of wedding band fits: comfort fit and standard fit.
Standard fit rings are the most common, and are flat on the interior of the ring.

Comfort fit are round on both the inside and outside and (not surprisingly, given its name) are often considered more comfortable to wear.
Keep in mind, width and fit don't have anything to do with the size of the ring, but size is still very important. If the ring is too big, even just slightly, you risk it slipping off when you're washing your hands or taking a shower. Too small and the ring will be uncomfortable and can even damage the circulation in your finger.
If you don't know your ring size, don't worry. We'll measure your finger and make sure your ring is custom-fit, just for you.
---
Bring it all together with a custom finish
The final detail of choosing a wedding band is the finish — you have a couple options:
High polish - A high polish ring is likely what you picture when you envision a wedding band. Very traditional, with a reflective finish. 

Matte - Matte finishes tend to look more modern with a less reflective surface. 

Combination - This finish is a mix between high polish and matte.

Hammered - This customized effect features small details literally hammered into the ring to make a unique texture. 
You may also be interested in a custom engraving on the ring, a unique design or pattern, or even adding diamonds or other gemstones. 
All the little details of a ring are what bring the design together and make perfect. These details may seem insignificant, but they're what help make it feel like yours.   
Men's wedding rings at Malka Diamonds
Whether you are looking for a timeless look, something reflective of your casual style, or a durable ring made to fit your hands-on lifestyle, Malka Diamonds has a carefully curated selection of wedding bands just for you. 
Our wedding band collections include: 
BENCHMARK COLLECTION
Benchmark's collection of men's bands are eco-friendly, made in the USA, and include a no-questions-asked lifetime guarantee. 
LASHBROOK COLLECTION
These are rings that tell a story — one fit for your lifestyle and relationship. All Lashbrook rings are made from ethically sourced materials and have a lifetime warranty. 
CUSTOM MEN'S RINGS
Whatever look and style you want, we can help create it. As third-generation diamond experts, we're dedicated to the design and construction of custom men's bands. We'll help you create a custom ring just for you.
Come see our collection of men's wedding bands!
Our team is dedicated to helping you find the perfect ring. We take a no-pressure, informative, and collaborative approach to sales, so you'll never feel uncomfortable in our downtown Portland jewelry store.
We'll make this easy. Contact us to schedule a private in-person appointment and see our collection, or book a virtual visit to get started.
Men's wedding rings at Malka Diamonds
Come see our collection of men's wedding bands!